Pizza is a beloved comfort food that doesn't have to be complicated. With the right equipment, you can whip up delicious pies in no time – and what better way to cook pizza than with an electric pizza oven?
If you're looking for an easy-to-use tool that helps turn out perfect pizzas every time, then check out our guide to the best electric pizza ovens currently on the market! We've surveyed hundreds of user reviews and picked five top models so you can quickly find the one that's just right for your home. Read on to learn more about each option and its features.
5 Best Electric Pizza Ovens For You
Currently, several great electric pizza ovens are on the market, each offering something unique and special. We've created this guide to showcase five models we think are particularly noteworthy.
Best Overall Electric Pizza Oven: Shikha Electric Pizza Oven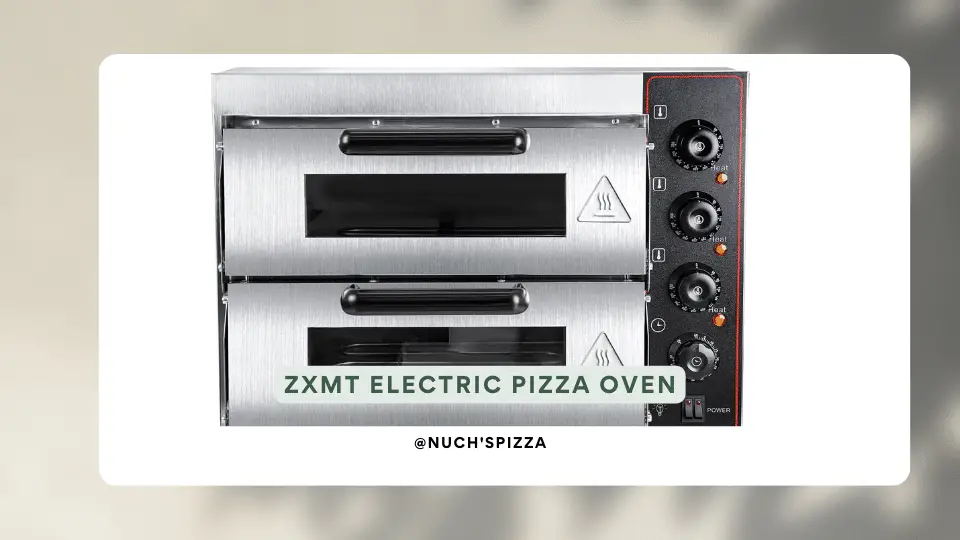 Do you crave hot, delicious homemade pizza right out of the oven? Get ready to have your pizza-making dreams come true! Introducing the Shikha Electric Pizza Oven – a robust and reliable countertop solution for all your pizza needs.
Crafted from high-quality stainless steel and outfitted with three temperature-controlling knobs, this electric oven allows you to accurately set temperatures from 50-350 °C (120-660°F). Use it for baking pizzas up to 16'' in diameter or go beyond traditional cooking functions by baking potatoes, bread, cakes, pies, and pastries. Easy to clean and maintain, The Shikha Electric Pizza Oven instantly becomes the star of your kitchen with its sleek lines and classic design. Plus, with an explosion-proof light offering a clear view of what's inside and four non-skid feet, making sure that everything stays in place even during long hours in the oven.
The perfect tool for any pizza lover looking to make a big impression, whether at home or in professional settings such as bakeries, snack bars, or catering businesses, The Shikha Electric Pizza Oven is one appliance not meant to be skipped over! Here is one of the comment that we found during the research "It's actually made by Guangzhou Goodloog Kitchen Equipment Co., Ltd but sold under various names. Trust me, it's a fantastic oven for the price! It can reach up to 650F, making amazing Neapolitan or NY style pizzas", more details of other comments.  With such incredible features and thoughtful design, it will certainly win over anyone craving authentic homemade pizzas just like those in Italy. Get yours now before they are gone!
Specification
The brand is Shikha
The control type is a knob
The product dimension is 22.8 x 22.4 x 17.3 inches
The power is 3000 watts
The capacity is 40 liters
The material is stainless steel
The heat is circulated in a 360° motion for great coverage
Pros
This stainless steel product is both stylish and durable, adding a high-grade look to any countertop
Large pizza oven can accommodate 16 inches of pizza size, roast family-size chicken, casserole, steak beef, and other items
The timing setting allows for easy control of the baking pizza
Con
The oven takes more space to set up
Best Durable Electric Pizza Oven: ZXMT Pizza Double Oven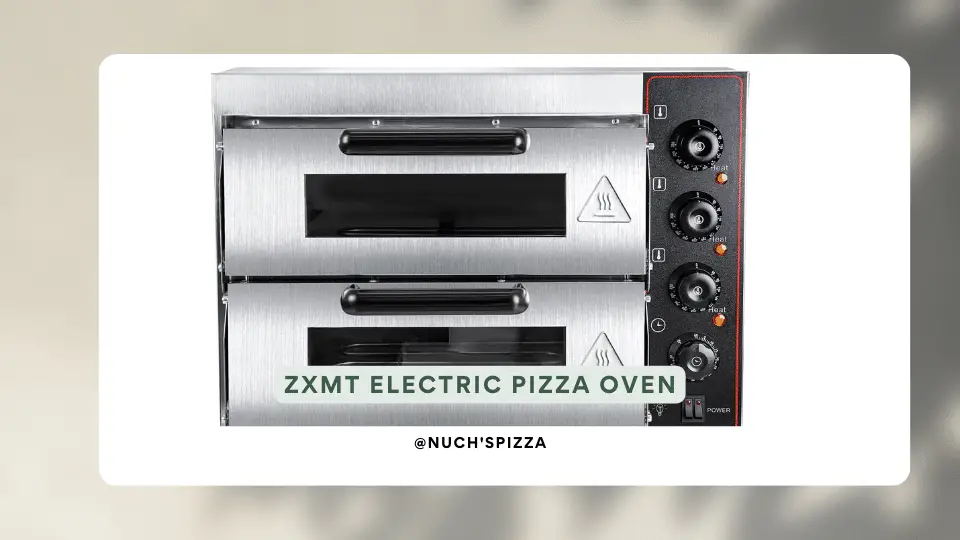 If you are looking for an easy and effective way to cook your favorite pizzas, subs, pretzels, baked dishes, or pastries, then the ZXMT Pizza Double Oven is the perfect choice for you. Crafted from premium stainless steel material, this oven is built with high-quality materials to last a lifetime.
You can easily control the temperature with three knobs ranging from 50-350℃/120-622℉, allowing you to get the same pizza crunchiness and flavor every time. The glass window lets you observe your food clearly while baking, and an inner illumination ensures that your dish finishes perfectly each time.
Moreover, this double oven is equipped with heat emission holes that ensure excellent heat dissipation, so it never gets overheated. The non-slip feet on the four corners ensure it stays stable on a countertop or table so that you don't end up spilling your delicious dinner. Plus, its large capacity lets you fit in up to 14" pizzas, so no matter how many people will be dining – there'll always be enough for everyone! Superb for both home and commercial use, the ZXMT Pizza Double Oven will step up your cooking game!
Specification
The brand is ZXMT
The material is stainless steel
The product dimension is 22.4″D x 22.8″W x 17.3″H
The control type is a knob
The temperature range is 50-350℃/120-622℉
The power is 1650 watts
Cook up to two 14″ pizzas in under 12 minutes.
The oven fits perfectly in your kitchen or restaurant.
Pros
This pizza oven can quickly cook crispy pizzas and toast bread slices with its double-layer design
This stainless steel oven allows you to cook food at various temperatures for 10-60 minutes
The oven features a nice and solid design
Con
It is not portable for moving around due to the heavyweight
Best Portable Electric Pizza Oven: GYBER Ervine Electric Pizza Oven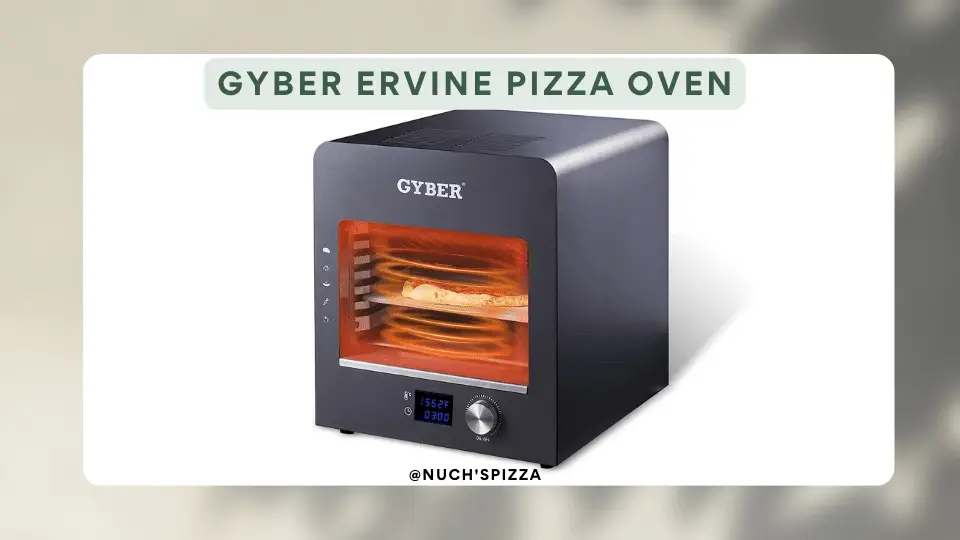 Are you an aspiring pizza chef dreaming of perfect, bubbling cheese and a perfectly cooked, crispy crust? Look no further than the GYBER Ervine Electric Pizza Oven! This powerful tool will help you create a restaurant-quality pizza in your kitchen.
The specially designed second layer features a built-in stone that preheats to the optimal temperature for baking—482-572°F—in just five minutes. With this oven's precision cooking capabilities, you'll get impressive results every time. Powered by an efficient 110V voltage and a powerful 1800W, it has a maximum temperature of 1562℉ and a second layer temperature of 1472℉, allowing you greater control over the cooking process. Meanwhile, the second layer locks in the gravy faster, making sure each slice is bursting with flavor!
Cooking with the GYBER Ervine Electric Pizza Oven is more than just a delicious dinner – it's an experience that will delight your senses and transform your mealtime. From the first moment you see this modern oven, you'll be impressed with its clear viewing window and sophisticated LED display. Enjoy perfectly cooked, juicy dishes every time with an oiled plate placed on the bottom of the oven to prevent dry burning and add moisture retention.
Its digital clock and temperature display also ensure you get ideal culinary results without fuss. Innovative multi-functionality means you can easily bake, roast, grill, or sear anything from pizza to seafood. Next time you're looking for convenience in cooking and elevated flavors for entertaining family or friends, turn to GYBER Ervine Electric Pizza Oven. Nothing else rivals its cutting-edge design or innovative features!
Specification
The brand is Gyber
The product dimension is 14.96″D x 14.17″W x 14.96″H
The control type is a knob
The oven includes a grill, stainless oil pan
The product weight is 31.53 lbs
Pros
The high-temperature range of 1562℉ ensures that food can be cooked to perfection
The viewing window and LED display of this appliance provide real-time information to help you achieve the perfect results while cooking
This oven is perfect for any home cook, providing efficient and powerful heating to quickly and evenly cook a variety of foods
Create delicious meals with the assurance that your dishes will come out perfect every time
Con
You need to place an oil plate before cooking to avoid burn
Best Versatility Electric Pizza Oven: Oster 8-in-1 Countertop Toaster Oven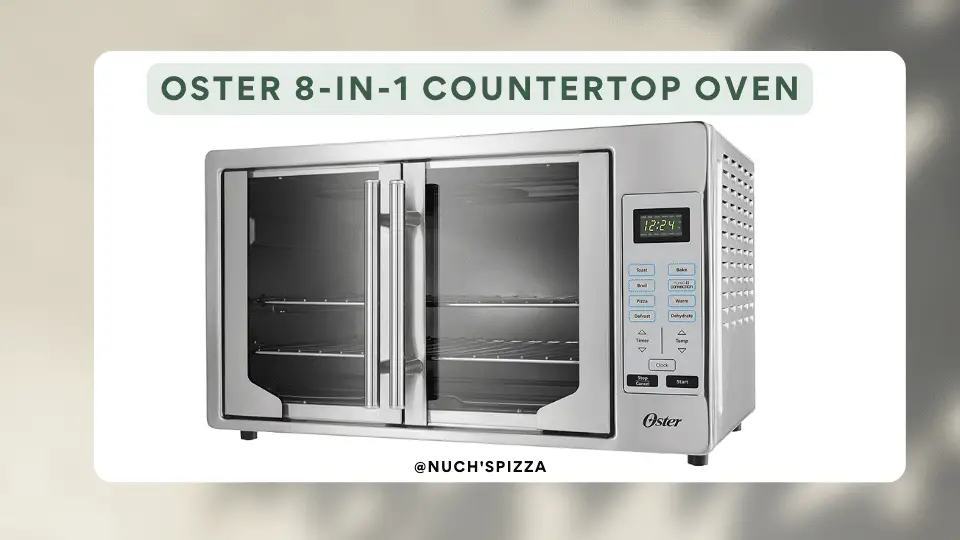 The Oster 8-in-1 Countertop Toaster Oven offers unprecedented convenience and cooking control. With its single-door pull that opens both doors with one hand, you can quickly get your meals prepared and baked in no time. Digital controls allow you to set the oven's temperature and cooking time almost exactly to a tee, so each meal comes out perfectly every time.
That's not all; an added Turbo Convection Technology will bake food faster while never sacrificing the browning power. And with two removable racks inside, this versatile countertop appliance can do much more than just toast! Its extra large interior can fit up to two 16-inch pizzas at once for quick dinner parties or snacks on movie nights, and it even slowly cooks meals at a preset temperature of 150°F for up to 6 hours!
Finally, the 90-minute timer will automatically shut off the oven when done, so you'll never have to worry about burnt foodstuffs again! Embrace ease and flexibility in your kitchen today with the multi-functional Oster 8-in-1 Countertop Toaster Oven.
Specification
The brand is Oster
The material is stainless steel
The product dimension is 20.15″D x 23.8″W x 15.1″H
The control type is a digital touch
The item weight is 18.1 lbs
The power is 1500 watts
The capacity is 24 cubic inches
Easy one-pull opening for both doors
Cooks food up to 30% faster than traditional ovens
Pros
This two-door refrigerator features a sleek design and can be opened with one hand for convenience
This container can hold two 16-inch take-and-bake pizzas, or a family-size dish of chicken, roast, casserole, or 14 slices of bread
This oven has features for dehydrating, timing, and preheating that make it easy to cook food
Turbo convection heat technology cooks food quickly and evenly
Con
It may take time to clean all the components of the oven
Best Affordable Electric Pizza Oven: COSORI Toaster Oven Air Fryer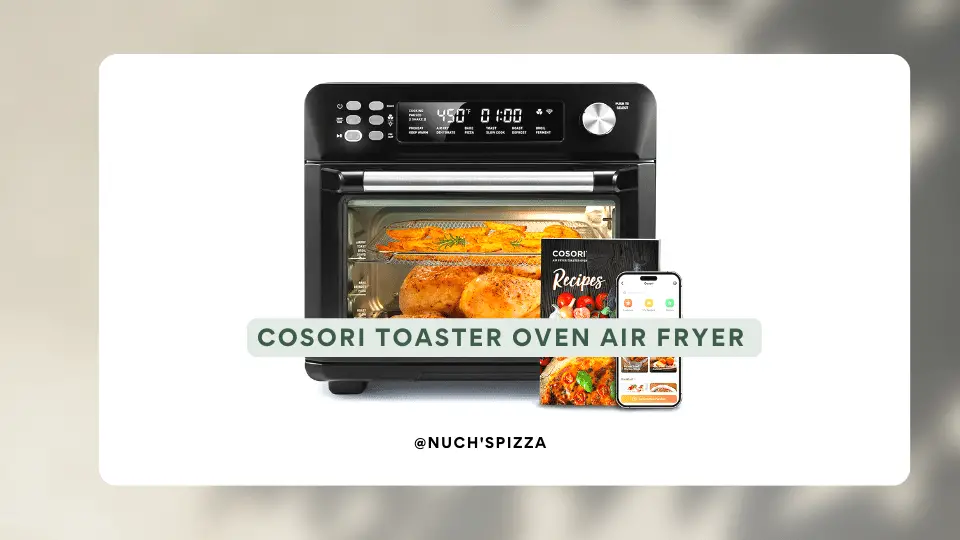 COSORI is the perfect kitchen appliance for any buyer who is looking for a versatile and user-friendly solution. This 12-in-1 air fryer ramps up your cooking game. Not only does it have 12 functions, from roasting to toasting, but it also cooks meals in minutes — up to 30% faster than a traditional convection oven. With six heat elements, a 2-speed fan, and temperatures up to 450°F, you can make delicious meals with just the touch of a button via the VeSync App, even hands-free control when paired with Amazon Alexa or Google Assistant.
The extra-large capacity of this 26 quart/25-liter COSORI oven can fry whole chickens – or fit up to 6 slices of bread or one large 12-inch pizza. The nonstick coating on the food tray makes cleaning easy, so you can spend more time cooking and less time cleaning. Plus, enjoy all the health benefits as this air fryer reduces fat content by up to 85%.
Best yet, everything you need right out of the box: 1 x wire rack, 1 x food tray, 1 x fry basket, 1x user manual, and even a recipe book with 30 chef-made recipes (and more available on the Vsync app). But beware – due to its high-performance capability, this product can only work with 120V/60HZ outlets, which are exclusive to US & Canada – check yours before you buy! Get cooking with COSORI now!
Specification
The brand is COSORI
The product dimension is 16.3″D x 16.9″W x 15.5″H
The oven includes an air fryer basket, food tray, wire rack, and a cooking book
The power is 1800 watts
The item weight is 22 lbs
The oven is compatible with Alex
Pros
This Cosori air fryer/oven combo is great and easy to use with knobs, buttons, an app, Alexa, and instructions to cook perfectly
It can accommodate 6 slices of bread at once
You can use the VeSync app on your smartphone or connect to Amazon Alexa or Google Assistant for hands-free control of your toast oven
Con
The maximum pizza size the oven can make is 12 inches of pizza
Why Should You Choose The Electric Pizza?
Electric pizza ovens are the perfect way to make delicious, crispy pizzas without having to use a traditional wood-fired or gas oven. They are designed with modern convenience in mind so that you can quickly and easily cook up a delicious pizza with little effort. Plus, they come with several different settings, which let you customize your cooking experience for optimal results. Electric pizza ovens can provide superior flavor and texture every time, whether you're looking for quick weekday dinners or gourmet weekend meals.
Additionally, electric pizza ovens tend to be more energy efficient than their counterparts, meaning you get great-tasting food while also saving on electricity costs. Many of these models are highly portable and occupy less counter space, so they don't take up too much room in your kitchen. Also, electric pizza ovens are typically very easy to clean and maintain, making them a great choice for any home cook looking for an efficient way to make delicious pizzas.
With so many benefits, an electric pizza oven is an ideal solution for making fresh, delicious pizza with minimal effort. So whether you're cooking for yourself or entertaining a large group of friends and family, you can enjoy tasty meals that will satisfy everyone! Make sure to do your research before buying one so you get the best deal possible on the model that suits your needs. Enjoy homemade pizzas made just the way you like them!
How To Have The Best Electric Pizza Oven?
There are a few key factors to consider when looking for an electric pizza oven.
Size
Depending on how much space you have in your kitchen, you'll want to make sure that the oven will fit comfortably. Some models are more compact than others and may take up less counter space.
Features
Most electric pizza ovens come with a range of features, such as digital temperature control, various cooking settings, timer functions, and removable racks for easy cleaning. Consider all the features included and decide if they fit your needs.
Price
Make sure to compare prices between different models to get the best deal possible. Keep an eye out for discount offers or bundle deals, which can help save money in the long run.
Other Functionality
Some electric pizza ovens come with other functionality, such as convection baking, rotisserie cooking, and even air frying. Think about what type of food you'll be cooking most often so that you can get the perfect appliance for your needs
Pizza Taste
Ultimately, the most important factor to consider is the taste of your pizza. Ask around or check reviews to see what other people are saying about different models and compare their results before deciding on a model
Warranty
You should make sure to check what kind of warranty is included with your electric pizza oven. This will ensure that you are covered in case anything goes wrong and can help give you peace of mind when it comes to making a purchase.
How To Maintain The Electric Pizza Oven?
Maintaining your electric pizza oven is essential to ensure that it continues working properly and lasts for years to come. Here are a few tips on how to best care for your appliance:
Clean The Oven Regularly
Make sure to clean the interior of the oven after each use, using soap and water or a non-abrasive cleaner. Additionally, be sure to wipe down the exterior of your oven regularly with a damp cloth.
Check Temperature Settings
Before using your oven, make sure that you check the temperature settings and adjust them as necessary. This will help ensure that you get the best results when baking pizzas.
Check Electrical Connections
Be sure to inspect all electrical connections before plugging in your electric pizza oven. The connection should be secure, and there should be no visible signs of damage or wear.
Follow the Manufacturer's Instructions
Read the instructions in your oven and follow them carefully to avoid any potential issues. Additionally, keep the manual handy in case you need to refer back to it for troubleshooting purposes.
Why Doesn't Your Electric Pizza Oven Work?
If your electric pizza oven isn't working properly, there could be a few different causes. Here are a few things to check:
Power Supply
Check the power supply and make sure that it is plugged in securely or that the outlet is operational. Additionally, make sure that you are using the correct voltage and amperage for your oven.
Temperature Settings
Make sure to double-check that the temperature settings on your oven are accurate and set correctly. If they aren't, this can prevent your oven from heating up properly.
Electrical Connections
Inspect all electrical connections to ensure they are secure and not damaged in any way. If you find any issues with any of the connections, contact a qualified technician to replace them.
Follow the Instructions
If your oven still isn't working correctly, try following the manufacturer's instructions again and make sure that you are using it properly. If all else fails, contact the company for further assistance
FAQs
Can You Reheat Food With an Electric Oven?
Yes, you can reheat food with an electric oven. However, it is important to remember that the temperature needs to be set low enough to avoid burning or drying out the food. It is best to refer to your oven manual for specific instructions on how to reheat food using your model.
Can an Electric Oven Bake Cake?
Yes, most electric ovens can be used for baking cakes as long as they reach the desired temperature. Additionally, some models may come with a cake setting which will make it easier to bake delicious desserts.
Can You Make Roasted Chicken With Pizza Oven?
Yes, you can make roasted chicken with an electric pizza oven. The key is to adjust the temperature of the oven to ensure that it reaches the correct level for cooking chicken. Additionally, make sure to check your model's instructions for specific instructions on how to roast chicken in an electric pizza oven.
Can You Bake Bread In An Electric Pizza Oven?
Yes, you can bake bread in an electric pizza oven. Be sure to adjust the temperature and timer settings according to your recipe. Additionally, some models may come with a "bread" setting which will make it easier to achieve perfectly baked loaves every time. Just be sure to keep an eye on the bread while it is baking, as cooking times may vary depending on the type of bread being made.
Can Electric Pizza Oven Reach High Temperatures?
Yes, most electric pizza ovens are able to reach high temperatures of up to 500 degrees Fahrenheit or higher, depending on the model. This is important for creating a crispy crust when baking pizzas. Make sure to set the temperature correctly and refer back to your user manual if needed.
Are Electric Ovens Safe?
Electric ovens are generally considered safe as long as the users use them consistently and adequately. Be sure to check for any signs of damage before use and follow all instructions included with your model carefully. Also, ensure not to leave anything flammable near the appliance while in use.
Do Electric Ovens Use a Lot of Electricity?
Electric ovens are more efficient than gas ovens, so they generally use less electricity. Additionally, newer models are designed to be more energy-efficient and can help reduce your overall energy consumption.
What Are The Benefits Of An Electric Pizza Oven?
Electric pizza ovens are more energy efficient than their counterparts and generally take up less counter space. They also have more features than traditional ovens, making them ideal for quick weekday dinners or gourmet weekend meals. Plus, they're easy to clean and maintain!
How Long Does It Take To Cook A Pizza In An Electric Oven?
It depends on the pizza size and how hot your oven is set. Generally speaking, it should take between 8-15 minutes to cook a pizza in an electric oven. However, make sure to keep an eye on it, as cooking times may vary.
Is An Electric Pizza Oven Better Than A Gas Oven?
It depends on what you are looking for in an oven. Generally speaking, electric pizza ovens tend to heat up faster than their gas counterparts and offer more precise temperature control options. However, gas ovens often have better insulation and are more energy efficient over time. Ultimately, it all comes down to personal preference.
Does Pizza Taste Good In Electric Oven?
Yes, pizza tastes great in electric ovens! Most electric ovens have a convection setting that evenly distributes heat for a perfectly crispy and flavorful crust. Also, newer models are more energy efficient and can help reduce cooking times. So if you're looking for an appliance to make delicious homemade pizzas, then an electric pizza oven is definitely the way to go.
Can You Use Voice Control To Monitor an Electric Oven?
Yes, some electric ovens are compatible with voice control technology. This allows users to adjust the temperature or timer settings without manually reaching for the appliance. Check with your manufacturer to see if your model is equipped with this feature. Additionally, be sure to read the instructions carefully when setting up voice control to ensure that it works properly.
What Substance Should You Avoid To Use With An Electric Oven?
It is important to avoid using any combustible materials or liquids near an electric oven as they can be easily sparked and cause a fire. Additionally, do not use aluminum foil or any other metallic objects that can reflect heat and damage the heating element of the appliance. Lastly, never use water in an electric oven as it can be very dangerous.
What Is a Self-Cleaning Setting For an Electric Oven?
The self-cleaning setting for electric ovens allows users to preheat the oven at a higher temperature to burn off any stuck-on food particles or grease. This will make cleaning much easier and help prevent buildups from occurring in the future. Just be sure to read your user manual for specific instructions on activating the feature. Additionally, make sure to wear protective gear such as an oven mitt and safety glasses when using this setting.
Are Electric Ovens Easy To Maintain?
Yes, electric ovens are relatively easy to maintain if you follow the manufacturer's instructions. Be sure to clean it regularly with a damp cloth or sponge and inspect for any signs of damage. Additionally, regularly replace worn-out parts, such as heating elements, to ensure the appliance is functioning correctly. Overall, electric ovens are usually quite simple to operate and maintain, which makes them ideal for busy households!
Conclusion
In conclusion, electric pizza ovens have revolutionized the way we cook and enjoy delicious pizzas! With such a wide variety of these innovative kitchen appliances, it can be daunting when trying to make the right choice. That said, our list above contains some of the best electric pizza ovens from acclaimed manufacturers and at excellent prices too. We hope our guide gives you all the information you need to make an informed decision before investing in an electric pizza oven for your home. Whether you are looking for something basic or an advanced model with extra features, this guide will point you in the right direction.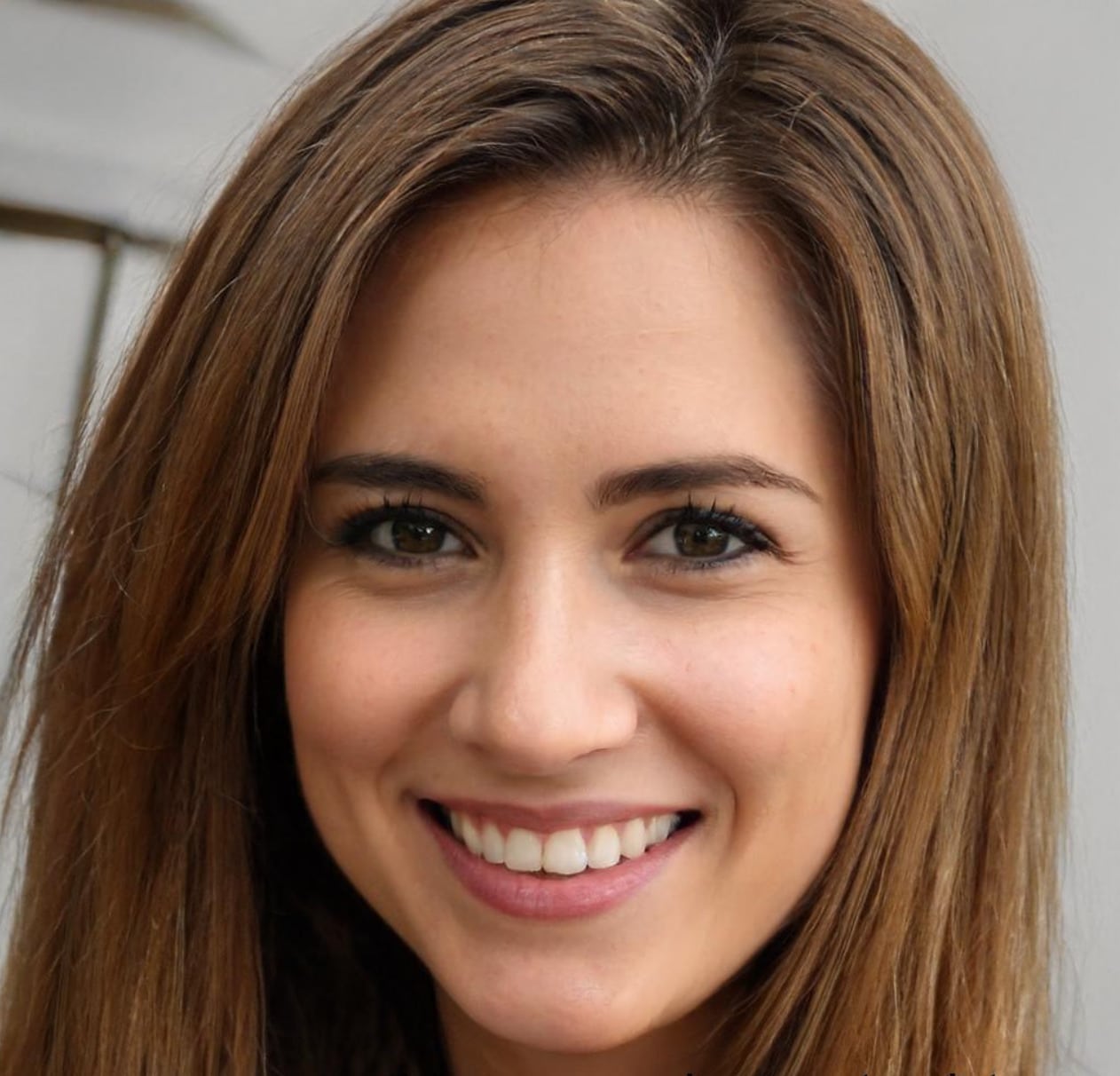 Iris Harper is a professional writer and restaurant set up consultant. She has over 10 years of experience in the food industry, and loves providing her clients with top-quality service. Her food reviews are highly sought after, as she has a knack for discovering new and delicious pizza creations.