Are you looking for an easy and delicious way to take your homemade pizza-making skills to the next level? Home pizza ovens offer a unique culinary experience like no other. Not only do they allow you to create perfectly crisped pizzas using high temperatures, but they can also help keep your kitchen cool. In this blog post, we'll explore 9 of the best indoor pizza ovens where you can elevate every slice of pizza with gourmet flavor. From electric countertop styles and wood-fired models to design-centric pieces ideal for entertaining guests, read our top nine picks!
Top 9 Best Indoor Pizza Ovens For Your Homemade Pizza
Here are 9 best indoor pizza ovens to take your homemade pizzas up a notch. Each option has its own unique features and capabilities, so be sure to read through this list carefully to make the right pick for you.
Best Overall Indoor Pizza Oven: Breville Smart Oven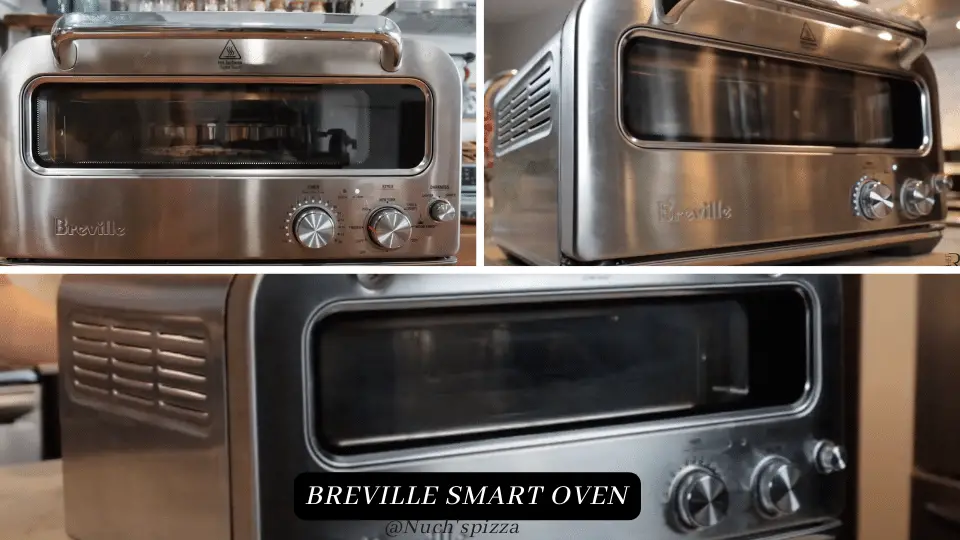 Firstly, let here from the other customers' comment about this product "I made the move from a big city to a small town years ago and dearly missed the flavor of true, artisan pizza. Well, this oven brings that distinct taste to your home. The crust caramelizes beautifully, with leopard spotting to match your preference. I use it practically every day because the taste is unbeatable" Read more comments in details.
Are you in love with pizza? Then the Breville Smart Oven Pizzaiolo is the countertop oven for you! With temperatures reaching up to 750°F, you can cook wood-fired style pizzas to perfection in just two minutes. Here's why it's so special:
The Element IQ system ensures that your pizza is cooked just right by adjusting the heating elements to your needs. And with preset functions like Wood Fired, New York, and Pan, Thin & Crispy, get a better-tasting pizza than ever before – just like traditional brick ovens!
The specialized heat technology of the Pizzaiolo oven helps replicate brick ovens with even cooking throughout. Plus, with conductive heat for a charred base and radiant heat for a perfectly spotted crust without rotating the food, you'll achieve foodie-worthy results each time. Also, say goodbye to burnt toppings caused by too much heat; the optimized reflector shield made sure they were protected from intense temperatures.
When it comes to achieving restaurant-level quality pizzas every time, choose the Breville Smart Oven Pizzaiolo and start enjoying that brick oven taste right at home.
Specification
The brand is Breville
The color is stainless steel
The product dimension is 18.5″D x 18.1″W x 10.6″H
The package includes pizza peel and pan
The finished
The type is brushed
The item weight is 2.64 lbs (1.2 kg)
The wattage is 1800 watts
The product features fast preheat time and even heat distribution
It provides maximum space efficiency
Pros
The Pizzaiolo from Breville allows you to make authentic homemade pizza with its range of preset cooking functions and recipe cards
Element IQ system utilizes sensors, temperature control, and deflector technology to adjust the heating elements for optimum cooking performance
Manual mode allows for complete customization of temperature and heating elements, while preset modes like Crust Only and Even heat help achieve the perfect results
This Breville indoor pizza oven makes incredible pizzas in just two minutes and is an excellent addition to any collection
Con
It may take time to clean, and the product is a bit pricey compared to other brands
Best Durable Indoor Pizza Oven: PYY Electric Pizza Oven Countertop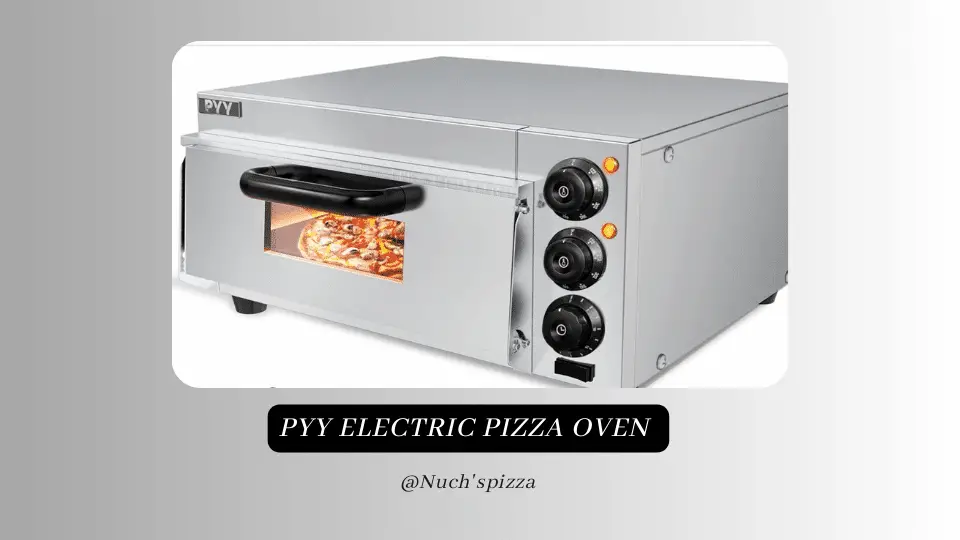 The amazing PYY Electric Pizza Oven Countertop – your new and powerful go-to for all episodes of snack time. With its large dimension of 22.4*20.8*10.8, this pizza oven countertop can be used for commercial use and offers 360-degree even heating to ensure your pizza has the perfect taste.
The oven comes with a baking stone that will help improve baking efficiency and Release even heat while also absorbing water to make sure you get that perfectly crispy texture on your pizzas. Plus, it has an explosion-proof heat-resistant tempered glass window where you can monitor the baking progress at any time without opening the door, so no need to worry about dodging any hot steam.
With adjustable temperature from 122 to 662℉ (50-350℃), it is suitable for various types of food such as pizza (up to 14in), pretzels, egg tarts, cakes, and chicken wings – so there will always be something yummy in store for everyone! Buy this tremendous electric pizza oven today and get ready to make delicious creations from your favorite recipes.
Specification
The brand is PYY
The color is silver
The product dimension is 20.8″D x 22.4″W x 10.8″H
The control type is a knob
The package comes with gloves, an apron, and a baking stone
The power is 2000 watts
The item weight is 50.6 lbs
The oven allows one to monitor food through a glass view door while it cooks without interrupting the baking process
The pizza cooker will stay stable while in use with 4 built-in anti-slip rubbers.
Pros
The indoor pizza oven provides maximum cooking flexibility with two temperature control knobs to individually control the upper and lower heating tubes
The cool-touch handle is made from bakelite material to insulate the heat and protect your hands from burns
A baking stone preserves heat and ensures a crispy pizza taste by releasing even heat and absorbing water
The interior light of a bakery oven provides visibility and is resistant to high temperatures
Con
It is quite heavy and less portable
Best 2-Layer Indoor Pizza Oven: Commercial PYY Stainless Steel Electricity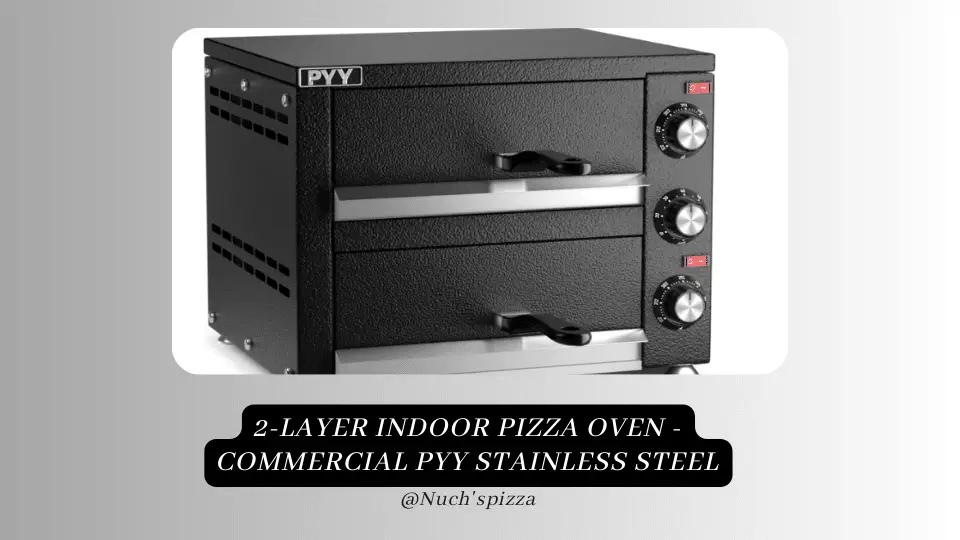 The PYY Stainless Steel Electricity Pizza Oven is an excellent choice. With this oven, you can enjoy uniform heat distribution for evenly cooked and luscious pizzas every time! Plus, it's energy efficient and has a power output of 1100W for each layer. So, you can bake everything quickly with less time and energy spent – perfect for busy kitchens.
You won't need to worry about cleanup either – this pizza oven is covered in wrinkled black paint that is resistant to oil stains or fingerprints, making it easy to wipe down after use. There's even a removable crumb tray that helps remove any mess or debris quickly and easily. Plus, you can control the temperature (up to 572℉(300℃)) perfectly using the adjustable thermostat feature.
And just set the timer and wait till it beeps – you'll have delicious pizzas ready in no time! You'll be able to make 12 inch pizzas along with other tasty treats like pastries, cakes, pies, and bread – all perfectly cooked and golden browned thanks to the uniform heat distribution of this commercial oven.
Specification
The brand is PYY
The control type is a knob
The package includes a crumb tray
The finish type is painted
The product dimension is 20.1 x 16.5 x 14.6 inches
The item weight is 28.8 lbs
The oven quickly heats up food without preheating
Heat is efficiently dissipated
Pros
The interior light of the oven makes baking easier and more efficient, while the removable crumb tray helps keep it clean
The cool-touch handle is made from bakelite material to insulate the heat and protect the user from burns
The oven allows users to customize the baking time and temperature to suit different recipes
This double pizza oven is restaurant quality and perfect for large groups, with a crispy bottom and melted deliciousness.
Con
This oven takes more space for setting up compared to other oven brands
Best Indoor Pizza Oven For Small Restaurant: CROSSON ETL Countertop Electric Oven
The CROSSON ETL Countertop Electric Oven has it all – and your customers will love it! With safety and sanitation being the top priority, this oven is ETLus and ETLSanitation certified. You can easily cook pizzas up to 16″ with its built-in large heating elements, full insulation on all sides of the oven, and cavity design, so you don't have to rotate the pizza during cooking.
Plus, thanks to its precise deck control, you'll always get perfect results. With its durable stainless steel exterior and aluminized steel interior construction, you can be sure that it won't be affected by the rigors of a commercial environment. Prepare mouth watering pizzas with this countertop electric oven – your customers deserve nothing less!
Specification
The brand is Crosson
The product dimension is 22.04″D x 23.03″W x 11.34″H
The package includes a pizza stone
The control type is a knob
The item weight is 48.8 lbs
The material is stainless steel
The power supply is 1600 watts
The oven features a reinforced door with a view window for visibility
Pros
The oven features independent upper and lower temperature control with a 60-minute timer for easy order management
The oven features powerful 1600W heating elements to cook thin-crust pizza in 6-8 minutes
The oven light allows users to check on their pizzas without disrupting the baking process
Con
The oven is only can make up to 16 inches of pizza
Best Sleek Design Indoor Pizza Oven: HOOCOO Electric Pizza Oven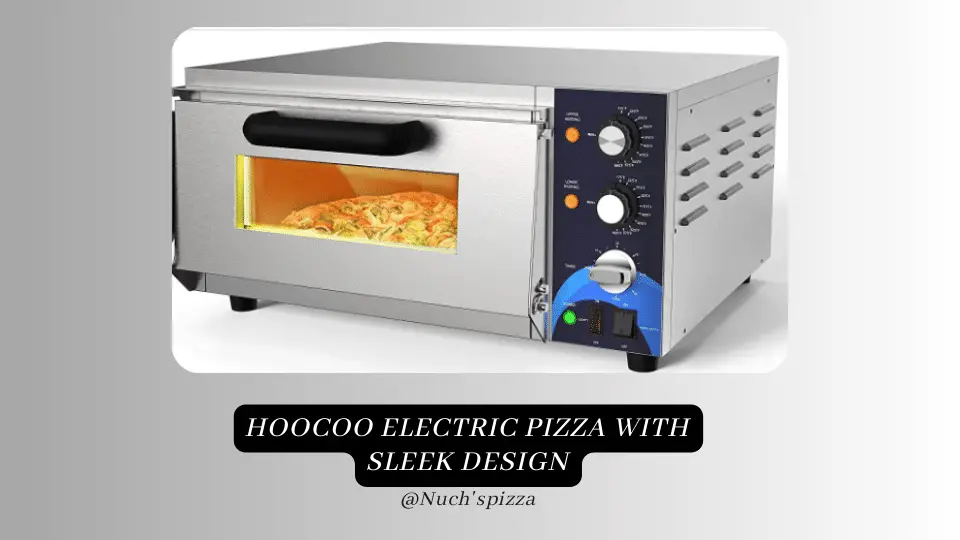 Welcome to the HOOCOO Electric Pizza Oven, your one-stop shop for delicious pizza with minimal effort! With its larger baking space and reliable deck control, this oven is sure to make cooking quick and easy. The spacious interior can fit up to a 16″ pizza, so you'll never miss a single slice of your favorite pies. The temperature control knobs and the independent timing knob allow you to find the perfect setting for every dish.
Plus, this electric pizza oven is built for commercial use with its solid material construction. Made of 201-grade stainless steel on both the main housing and door, it can resist wear and tear while remaining easy to clean. The insulation on all sides ensures consistent internal temperatures while keeping the exterior cool so everyone stays safe in the kitchen. And for added peace of mind, HOOCOO stands by its product with lifetime customer service and a 90-day return policy.
Specification
The brand is Hooc Hoocoo
The product dimension is 23″D x 22″W x 11.4″H
The control type is a knob
The power is 1600 watts
The weight is 41.9 lbs
The oven can cook a variety of food items
It produces high-quality results in the same amount of time as larger ovens
Pros
The oven features a reliable control system and is equipped with a German thermostat element and three knobs to provide users with customizable cooking experiences
This oven is made of 201-grade stainless steel and is fully insulated, making it durable and easy to clean for use in a commercial environment
The oven is capable of cooking a 16″ pizza at 550 degrees for 6-8 minutes to achieve a perfect crust
Con
The delivery may take a few days, depending on the location
Best Convection Oven With Pizza Drawer: Oster Convection Oven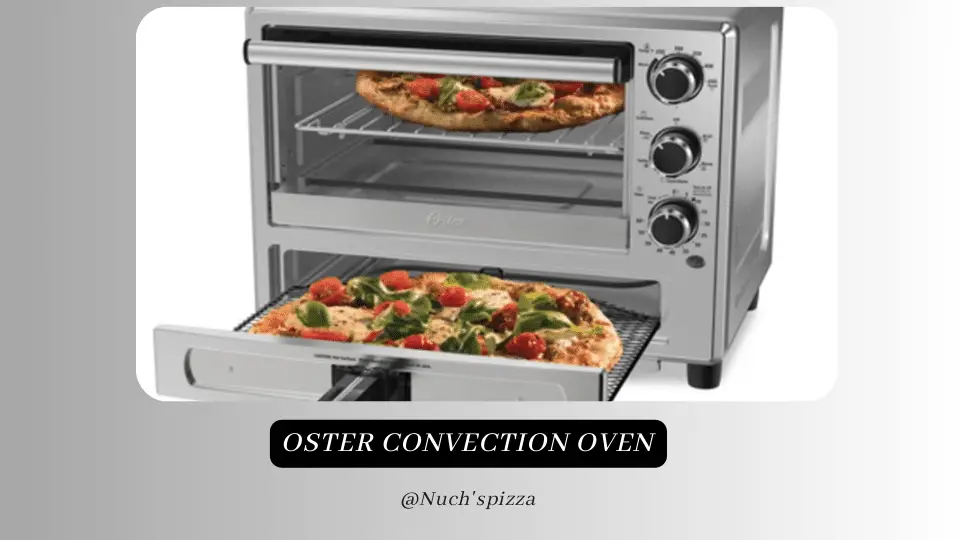 This state-of-the-art kitchen tool is perfect for busy households looking to simplify and streamline their home cooking routine. Not only does this convection oven cook quickly and brown food evenly, but it's specially designed with a dedicated pizza drawer great for preparing additional indulgences like bruschetta and quesadillas. For easy maintenance, two separate trays make cleaning up any crumbs quick and painless.
Plus, its cool-touch handles ensure there's no danger of burning your fingers while operating. Worried about over-baked treats? We've got you covered! The timer includes a reliable auto-shutoff feature with a handy bell signal so you always know just when to take things out of the oven before they get too toasty! To top it all off, an included baking pan and baking rack double as a broiling pan when assembled together so you can finish making delicious meals every time. With the Oster Convection Oven in your kitchen, creating amazing culinary masterpieces becomes easier than ever!
Specification
The brand is Oser
The color is stainless steel
The oven includes a toaster oven
The product dimension is 15.5″D x 18.3″W x 10″H
The control type is a knob
The item weight is 21 lbs
The oven can cook up to two dishes at once
Pros
The larger baking space allows for pizzas up to 16″ to be cooked at 550 degrees for 6-8 minutes
This product is ideal for making 12-inch pizzas, bruschetta, appetizers, and quesadillas
This oven is perfect for cooking frozen pizzas, roasts, pies, and casseroles with a timer and auto-off feature
Con
The heat may not be distributed evenly due to the size of the cavity space
Best Energy Saver Indoor Pizza Oven: PYY Pizza Oven Indoor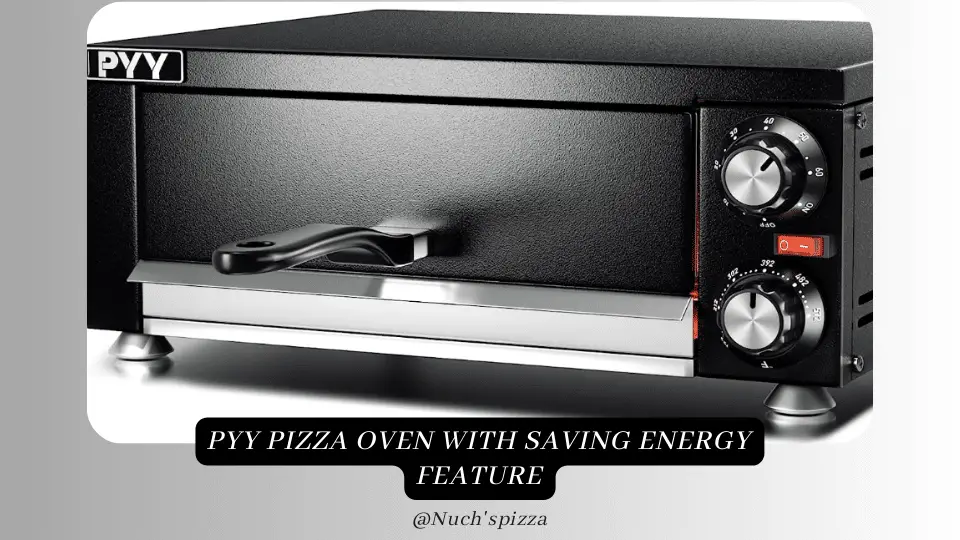 Looking for an indoor pizza oven designed to deliver unbeatable convenience, performance, and outstanding results? Look no further than the PYY Pizza Oven Indoor. This electric countertop pizza oven features a double-sided heating device that ensures that your pizzas are cooked evenly with a beautiful golden coating. With its adjustable temperature range of 0~572F and its easy-to-read timer alarm, your pizzas can be baked to perfection every time!
The PYY Pizza Oven Indoor is also designed for superior convenience. Not only is it incredibly simple and intuitive to set up – its oil stain and fingerprint-resistant wrinkle black finish makes it overwhelmingly straightforward to clean, too, so you can minimize the time spent on keeping it in top condition. The removable crumb tray also makes this job even simpler.
Whether you're hosting a dinner party or simply spoiling yourself with some gourmet home-cooked pizza, the PYY Pizza Oven Indoor is a great solution that offers unbeatable convenience and efficiency. After all, not only does it bake delicious pizzas rapidly – but with its versatility, you can cook various foods such as pretzels, Portuguese bread, cakes, pies, and chicken wings too! So upgrade your kitchen appliances today with the PYY Pizza Oven Indoor – and make the most of your cooking needs.
Specification
The brand is PYY
The item weight is 20.2 lbs
The product dimension is 14″D x 17.9″W x 7.5″H
The oven includes a crumb tray
The fished type is painted
The power is 1100 watts
Pros
This inexpensive pizza oven produces a delicious 12-inch pizza in just 10-15 minutes, although it lacks an indicator light to let you know when it has reached its maximum temperature
This pizza oven is perfect for quickly and evenly cooking a wide variety of foods, yielding delicious results
Con
This small pizza oven works great, but its temperature gauge is confusing due to its off-set numbering
Best Lightest Indoor Pizza Oven: SIMOE Electric Pizza Oven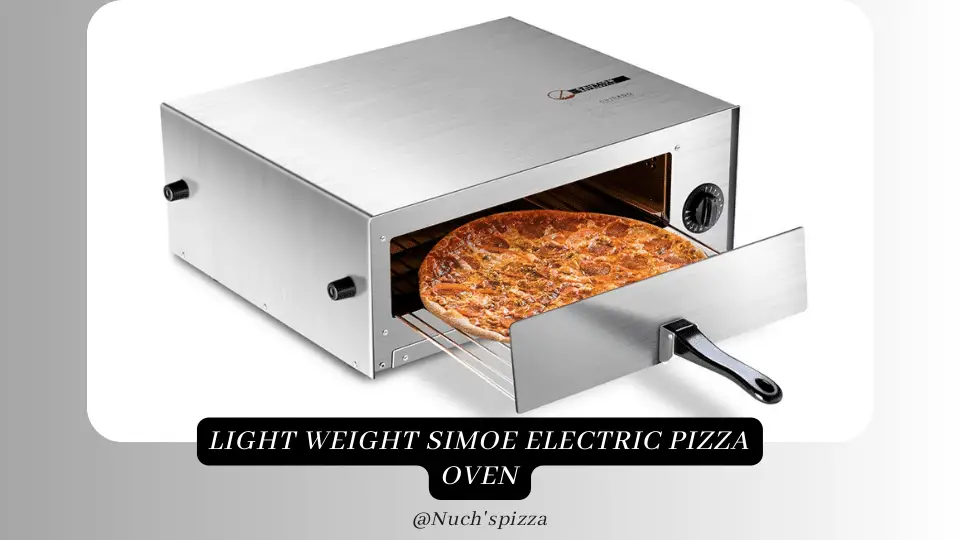 SIMOE Electric Pizza Oven – the perfect solution for faster cooking and delicious meals! With an incredible 1450 watts of power, this oven is like nothing you've seen before. Whip up a 12-inch pizza in just 9 minutes, saving you valuable time while satisfying your cravings at the same time. Plus, thanks to its timer and auto shut-off features, our pizza oven ensures that it will neither overheat nor require remembering to turn it off.
Your convenience doesn't stop there. The pizza oven also provides maximum ease of use with its insulated handle and removable tray. The chrome-plated wire rack allows for quick cleanup while the heat insulation keeps your hands safe from any burns. And if that wasn't enough, this powerful oven can also be used for various things other than pizzas, such as vegetables, meat, or whatever you crave! Its portability makes it great to use without having to lug around a heavy appliance; you can take it anywhere from your backyard to camping trips making it even more convenient.
Durable and reliable? Absolutely – the SIMOE Pizza Oven is made from heavy-duty brushed stainless steel so that you can trust in its longevity and have one less worry on your mind when using this kitchen appliance. It backs this up with a 2-year warranty as well as a 30-day money-back guarantee so that you are 100% satisfied with your product purchase.
Specification
The brand is Simoe
The color is stainless steel
The product dimension is 15.7″D x 18.9″W x 7.5″H
The package includes a crumb tray and wire baking pan
The power is 1450 watts
The pizza capacity is 12 inches
The weight is 9.7 lbs
Pros
The handle of the pizza cooker is insulated to protect it from burns and can be folded up for storage when not in use
This pizza oven can be used to cook a variety of foods and is easy to clean with its removable wire rack and crumb tray
This oven features a 0-30 minute timer button to adjust the cooking time, an adjustable temperature range, and built-in overheat protection for safety
Con
The brand is new to the market, and the durability hasn't been tested properly
Best Affordable Indoor Oven Pizza: Professional Series Pizza Oven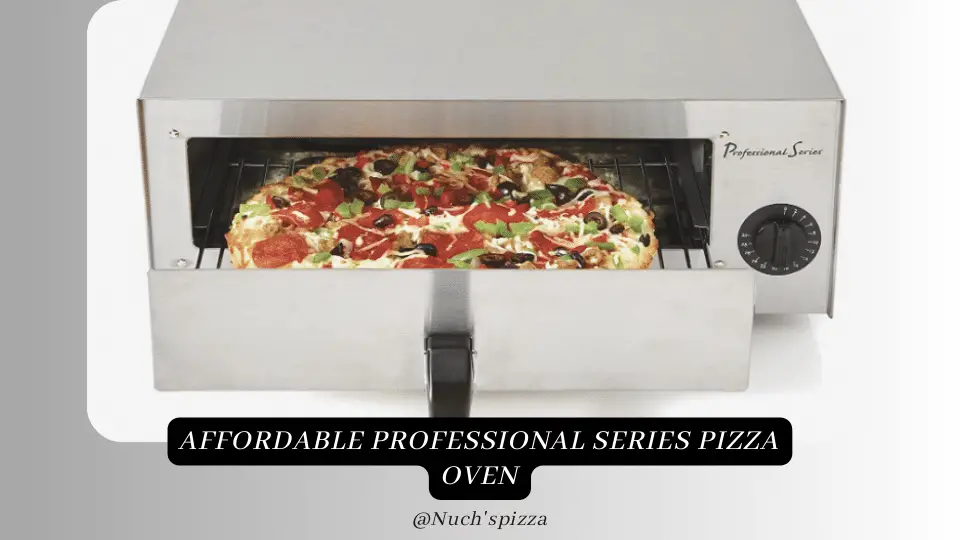 For pizza night on busy weeknights or summer camping trips with friends – either way and all the other delicious recipes you can think of, you'll want to get your hands on the Professional Series Pizza Oven. This professional-grade oven is designed for all your baking needs, from the kitchen countertop to the great outdoors.
It takes only 8-10 minutes to cook a 12" inch pizza! And, to make sure you don't forget about that crispy pie in the oven, there's even a 30-minute timer that will remind you when it's ready. Cleaning up after dinner is simple with the removable pull-out crumb tray – and this pizza oven is built to last with its durable stainless steel body and cool touch handle that fits easily into any kitchen design. Not to mention it heats up quickly to 430-460 degrees Celsius so that you can enjoy your favorite foods faster!
Specification
The brand is Professional Series
The color is stainless steel
The heating method is conduction
The finish type is brushed
The product dimension is 21 x 9 x 18 inches
The item weight is 13.12 lbs
Pros
This product is of good quality, making pizza cooking a breeze
The oven is an ideal accessory for ice fishing
Con
The oven can make a maximum pizza size of 12 inches
How To Pick Up The Best Indoor Pizza Oven?
Picking the right pizza oven can be a daunting task. There are many factors to consider, such as size, power, and temperature range. But don't worry – we've got you covered! Here are some tips on how to pick up the best indoor pizza oven.
Size
The size of the pizza oven matters a lot. Depending on your needs, you must choose an oven that can accommodate pizzas up to 12 inches or more. However, if you have more space and budget, you can opt for a bigger one because they tend to cook more quickly.
Durability
Durability is important as you don't want to replace your pizza oven too often. Look for ovens made of heavy-duty materials such as stainless steel. This ensures that your pizza oven will last for a long time and can withstand high temperatures.
Power
The power of the pizza oven is a very important factor. Higher wattage generally means faster cooking times, so it's best to opt for an oven that has at least 1100 watts or more. Less than that might mean that your pizza won't cook fast enough.
Temperature Range
The temperature range of the oven is also important, as it determines how precisely you can adjust the heat for different dishes. Look for an oven with a temperature control ranging from 175°F to 500°F or more, so you can customize your cooking experience.
Pizza Quality
The quality of the pizza produced by an oven is also important. You want an oven that can produce a crispy crust and evenly cooked toppings. Look for ovens with features such as adjustable temperature settings and timer buttons to ensure you get perfect results every time.
Customer Support
You should also check out the customer service and warranty offered by the manufacturer. Check out reviews from other customers to see if they are satisfied with the product's quality and customer support. This will help you decide which oven is best for your needs.
Maintenance Frequency
Ovens that don't require regular cleaning and maintenance will help you save time and money in the long run. Look for ovens with removable parts that can be washed easily, and make sure they are designed for easy cleaning. Many ovens have built-in self-cleaning options as well.
Price
The best pizza ovens are usually on the pricier side, so it's important to determine your budget before shopping. There are many great options for all budgets – just make sure you do your research and pick one that fits your needs and budget. The price range for pizza ovens can range from a few hundred dollars to over a thousand.
How To Make A Great Pizza With An Indoor Pizza Oven?
Pizza is the ultimate comfort food, and with an indoor pizza oven, you can make it anytime you want! Making a great pizza starts with selecting the right ingredients. Choose your favorite toppings – from classic pepperoni to creative combinations like pineapple and ham – and assemble them on your prepared dough.
Once your toppings are ready, preheat your oven to 500 degrees Fahrenheit or higher for at least 20 minutes. This ensures that the cooking surface is hot enough to give your pizza a crispy crust without burning it. Place the assembled pizza carefully in the oven and bake for 8-10 minutes until the cheese is bubbling and golden brown. When finished baking, take out your beautiful homemade pizza and let it cool before slicing and serving. Enjoy your fresh, homemade pizza with friends or family!
There are some common mistakes you should avoid to ensure a great pizza every time. Make sure the pizza dough is rolled thin. Otherwise, it won't cook properly. Don't overburden your pizza with too much topping – this can make it soggy and harder to bake. Also, don't open the oven door while cooking, as this can cause drastic changes in temperature and affect the outcome of your pizza.
How To Store An Indoor Pizza Oven Correctly?
Storing your indoor pizza oven correctly is important to ensure it lasts for a long time. Before storing, make sure to clean the cooking surface thoroughly with warm water and mild detergent. Wipe down the exterior with a damp cloth and dry it completely before putting it away.
If you have any removable parts like the crumb tray or trays for baking cookies and other items, disassemble them and store them separately in an airtight container or zip-lock bag to prevent moisture buildup. Make sure all the parts are completely dry before putting them away.
You should store your pizza oven in a cool, dry place away from direct sunlight. Prioritize ventilation around it to reduce excessive heat build-up inside the oven when not in use. Make sure the oven is switched off and unplugged before storing it away, as this will save you from any potential accidents.
FAQs
Is an Indoor Oven Worth For Purchase?
Yes, an indoor pizza oven is worth the purchase if you want to make delicious homemade pizzas. It's easier and faster than using a conventional oven, so you can enjoy freshly made pizza more often without having to wait for long cooking times.
How Is Convenient The Indoor Pizza Oven?
Indoor pizza ovens are extremely convenient for making homemade pizzas. They cook quickly and evenly, so you can enjoy your delicious creations in no time. Plus, many models feature adjustable temperature settings and timers to give you complete control over the cooking process.
What Is The Best Indoor Pizza Oven?
The best indoor pizza oven depends on your needs and budget. Look for one with a large cooking surface, durable construction, adjustable temperature controls, timer buttons, and good customer reviews. It's also important to find an oven that is easy to clean and maintain for long-term use.
Can You Use An Indoor Pizza Oven To Bake Other Dishes Aside From Pizza?
Yes! Many indoor pizza ovens are versatile enough to bake other dishes such as cakes, cookies, and even roasts. You just have to adjust the temperature and cooking times accordingly.
Does The Pizza Oven Have Temperature Control?
Yes, this pizza oven has temperature control ranging from 175°F to 500°F, making it easy to customize your cooking experience.
Does An Indoor Pizza Oven Need a Vent?
No, indoor pizza ovens do not need to be vented. However, it is important to provide good ventilation around the oven when storing it away to reduce excessive heat build-up.
Can You Use Charcoal To Heat An Indoor Pizza Oven?
No, you should not use charcoal to heat an indoor pizza oven, as it can be dangerous and cause smoke damage. Electric or gas-powered pizza ovens are a safer option for making delicious homemade pizzas.
Do You Need Special Accessories For My Indoor Pizza Oven?
Yes, depending on what type of food you plan to cook with your indoor pizza oven, you may need some additional accessories such as pizza peel, and an apron.
Is It Easy To Clean An Indoor Pizza Oven?
Yes, many indoor pizza ovens are designed with removable parts that make cleaning easy. You can easily disassemble and wash the parts in warm, soapy water. Many ovens also have a self-cleaning option for added convenience.
How Long Can You Store An Indoor Pizza Oven?
You can store your pizza oven indefinitely if you take care to keep it clean and dry. Make sure to disassemble any removable parts, wipe down the exterior with a damp cloth, and store in a cool, airtight container away from direct sunlight. This will ensure that your indoor pizza oven lasts for many years to come!
Conclusion
Pizza is an iconic dish for many occasions, from movie nights to birthday celebrations. But who says you have to go out to get a delicious slice? It's now easier than ever to get that perfect pizza right at home in your very own indoor pizza oven! The best part is that there are so many options available, ranging from traditional electric ovens to wood-burning ones, ensuring that everyone can find the one that best fits their needs and budget. When it comes to choosing the ideal indoor pizza oven for your household, there are few things better than being able to have complete control over the size, temperature, and ingredients of your culinary masterpiece!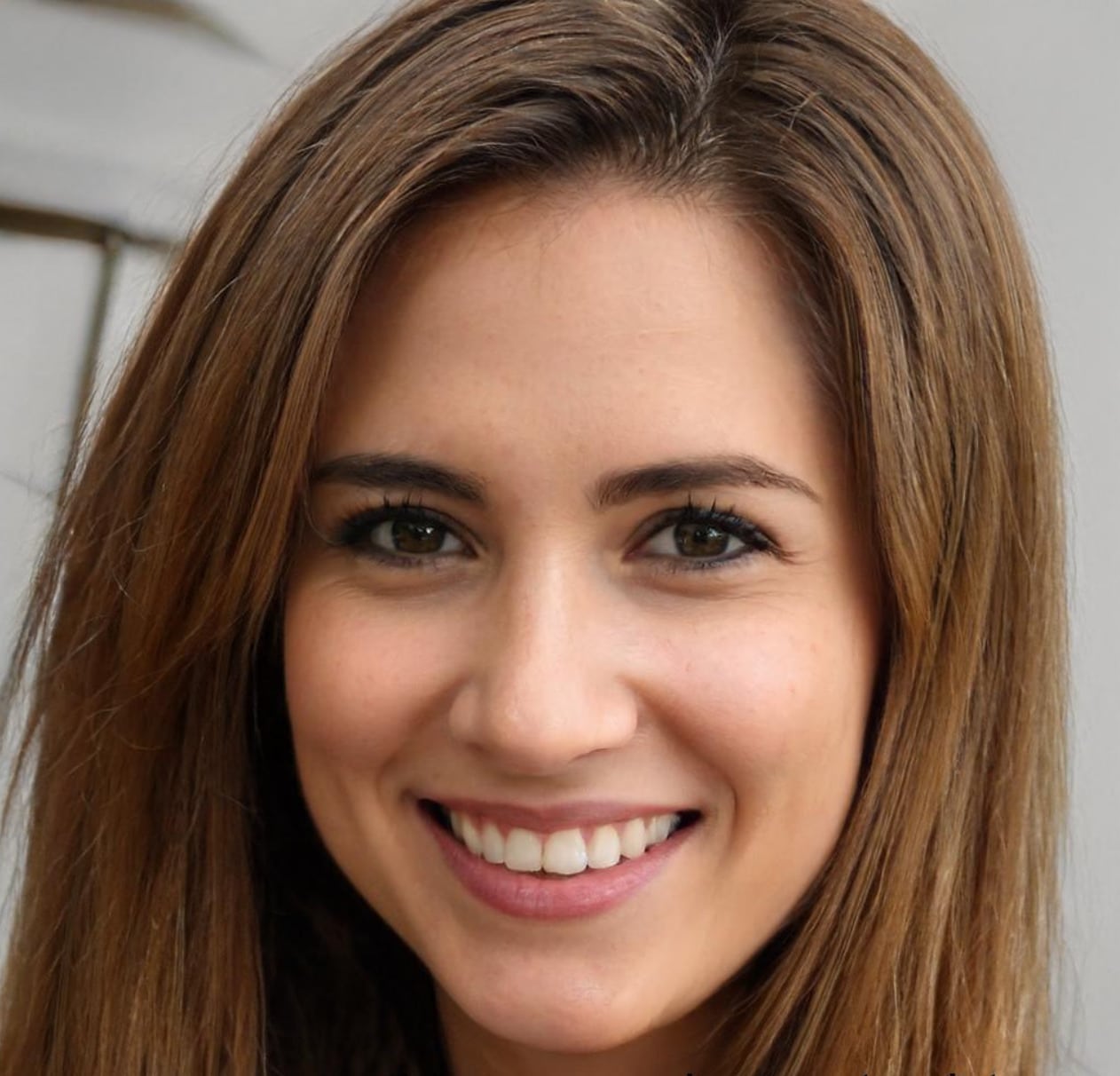 Iris Harper is a professional writer and restaurant set up consultant. She has over 10 years of experience in the food industry, and loves providing her clients with top-quality service. Her food reviews are highly sought after, as she has a knack for discovering new and delicious pizza creations.